WNCPA Monthly Meeting this Tues., Oct. 17
Reminder, our October monthly meeting is next week, Tuesday night, October 17. Per usual, we'll have a light dinner at 6:15, the meeting at 7:00 pm, and then the program at 7:30 pm. However since this meeting is also our official Annual Meeting, we're splurging for fried chicken! for our main dinner entree.
The key feature of our annual meeting is electing new directors and officers for our Board of Directors. The slate of nominees is included in the minutes from the September monthly meeting. To view a draft of these minutes, click (here).
Another key feature of Tuesdays meeting will be our feature program! As we all hopefully know by now, the FAA is requiring ADS-B by 2020. And 2020 is just around the corner. So we are bringing in someone who can fill us all in on what we need to be doing between now and then and to talk about the options we have available to us. Our featured speaker will be John Pruden, co-founder of PF Flyers in Greenville, SC. Click (here) for a bio of John and to check out the PF Flyers website.
Hope to see you all Tuesday!
WNCPA Scenic Flights Postponed
Typically, the WNCPA offers scenic flights every on a weekend in October. This year we have decided to postpone our flights to a weekend in the spring.
The Asheville Airport is currently in the process a major runway reconstruction project. This work along with the anticipated heavy volume of air traffic in late October is likely to cause signifcant taxi, take-off, and landing delays.
When new dates have been decided, we will post them here. Please check back and thank you for your interest in our scenic flights.
Latest KAVL Runway Construction Update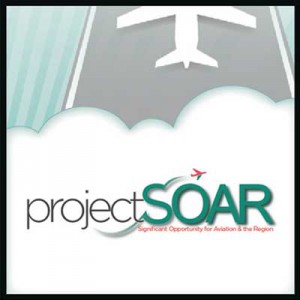 Michael Reisman, Airport Authority Deputy Executive Director has forwarded the most recent update on the Airfield Re-development Project. Per Michael, work on Phase IV of the project has unfortunately fallen behind due to a combination of issues encountered by the contractor and the wet weather we have had over the summer months.
Click (here) to continue reading.
Drone Application Classes Offered this Fall!
The A-B Tech Continuing Education Division is offering drone application classes this fall! Prepare for the FAA remote pilot certificate exam or develop the skills needed for commercial applications. Class sessions start October 7 and October 17.
For more information click (here) for a flyer or contact Maria Spadaro at This e-mail address is being protected from spambots. You need JavaScript enabled to view it .
Private Pilot Andrew Moore!
On Tuesday, May 9, WNCPA member, (and son of proud Pappy Jeff!) Andrew Moore successfully completed his private pilot checkride! Andrew's instructor is Zach Byere from Rutherfordton. Congratulations, Andrew, we're proud of you! Click (here) for pics of Andrew and his really cool plane!
66°
19°
Clear
Humidity: 63%
0 mph
Sat
Sun
Mon
Tue
Get latest METARs and/or TAFs. Enter the 4-letter ICAO station identifier(s). If more than one, insert one or more spaces between stations, (e.g., KAVL KCLT @NC).