Burgers, Brats, and out Best Attended Cookout Yet!
MANY THANKS to all who came out to our annual cookout Tuesday, July, 19 and for making it our best attended monthly meeting in many years! Special thanks also to our own Chuck Buckland and Signature Flight Support for providing us their North Hangar. With over 100 attendees, we'd likely have broken the fire code limit in our regular meeting venue!
Very special thanks also to Gary Schmidt of Just Aircraft and his pilots Harrison, and Chris for bringing not two, but three aircraft over for static display and a demo flight. Go to justaircraft.com to learn more about these amazing airplanes.
And finally, heartfelt thanks for all those who toiled and sweated in setting up and cleaning up! Click (here) for pics of all the food, folks, and fun!
Great Fly-out to London, KY
What a great day we had flying to London, KY (KLOZ), last Saturday, June 25, for their annual open house. The staff at Weaver's Landing (the new restaurant) were friendly and the food was great. And to top it off, the airport gave WNCPA pilots half-price fuel. Needless to say several of us did top-offs! Best count, we had 22 WNCPA folks in over 10 planes! Thanks to all who participated and special thanks to all the friendly folks at the London-Corbin airport! Click (here) for some pictures.
AVL Airport Wins Award for Runway Project!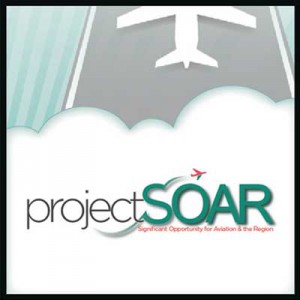 At the Annual Conference of the Southeast Chapter of the American Association of Airport Executives, held in Greenville, South Carolina in May, Asheville Regional Airport received a significant award. AVL received the "Commercial Airport Project of the Year" award for its construction of its Temporary Runway 17-35 and Taxiway B. Click (here) to read more.
Education Foundation Announces 2016 Grant Recipients!
At the May 17 General Meeting, Arnie Andresen announced the 2016 WNCPA Education Foundation grant recipients. There were a total of twelve grants awarded, seven of which are students in the A-B Tech Aviation Program. Recipients include, Joushua Billings, Rob Bruner, Dan Gurin, Katherine Harris, Greg Larson, Gwen Lassez, Bruce MacDonald, Baylor Manning, Melena Mullens, Zach Smith, Jacob Tallent, and Michael Wheeler. Congratulations all!
Congratulations Michael Wheeler!
Hearty Congrats to WNCPA member and A-B Tech Aviation student, Michael Wheeler for his first solo flight on Tuesday, May 10 at the Rutherford County Airport (KFQD). Michael's instructor had been our very own, Patrick Reynolds (until he got an airline job!). Michael's new instructor is Donald Gibson of WNC Aviation. Why Rutherfordton? Well, when the wind is blowing covers off airplanes in Asheville, it's probably to windy for the first solo. Per Micahel, "I had fun, I did my three landings (not counting the bouncing)!" Well done, Michael!
Runway Construction Job Opportunities
WNCPA member Mark Stepp has let us know his company, GLF Construction, has been awarded the next phase of runway work at the Asheville Airport. To do this work, they will need to hire six to eight taxiway crossing guards.
Contact Mark at 828-575-6188 if you know of anyone looking for work, especially folks with some aviation experience since these positions requires communication with ATC.
Click (here) for more information about these positions!
Billy Turns 95!
At this week's March 2016 WNCPA General Meeting, we celebrated fellow-member Billy Welch and his 95th birthday. After singing a loud "Happy Birthday," Billy was presented a cake sporting his 1943 likeness!
After several calls for a "speech," Billy spoke of his experience as a P-51 bomber escort fighter pilot over Germany in WWII. Then WNCPA member, Anthony Pretorius presented slides about Billy's wartime experience and their most recent trip together last summer to Oshkosh. Click (here) for some photos!
Thank you, Billy for your service. We are honored to have you in the WNCPA. We wish you a happy birthday and many more!
Get latest METARs and/or TAFs. Enter the 4-letter ICAO station identifier(s). If more than one, insert one or more spaces between stations, (e.g., KAVL KCLT @NC).